The decision-making in incertainty and fast-changing environments, with large arrays of information, strengths the need to focus on the strategic planning, particularly on the balance between the institution's interests and its stakeholder, clearly defining its positioning and objectives. With the purpose of placing the Strategic Planning at the heart of its institutioalmodernization, IST launched organizational changes around various management mecanisms.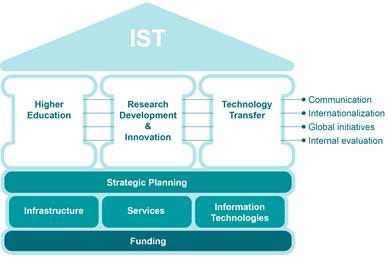 Elaborated in December  2010, it clarifies and focuses on the Mission and Vision for IST as a global institution, and efines its strategy, by devising a plan of action for the institution's future, coeherent and oriented towards the pursuit of its objectives. The main strategic options are described, structured in 12 Areas of Action, each of them with a plan of action (Lines of Action).
Activity Plan
Bsaed on the 12 Areas and respective LInes of Action, this document lists the activities to be carried out in each civil year, the strategies to be adopted to attain the proposed objectives, as well as those responsible for their implementation and the period of completion. Adopeted at the School Council eat the beginning of each year, this document will in turb guide the elaboration of the Evaluation and Accountability Framework (QUAR) of IST. Along with this management instrument, an Annual Report is elaborated which records the degree of accomplishment of the programmes and actions proposed in the Activity Plan and the resources used.
QUAR
One of the sub-systems of SIADAP (Integrated System for Performance Assessment in Public Administration), the Evaluation and Accountability Framework aims, among other things, at improving the performance and quailty of Services and providing consistency and harmony to actions of everyone involved. Like all other said documents, QUAR is also a management support mechanism, which will allow for highlighting its strategy and disseminate its performance levels, while being an instrument for monitoring priority areas that are carried out within the framework of the Services. Implemented for the 1st time in 2008, it has contributed for a better alignment between the strategic objectives set by the governing bodies o f IST and the objectives of its Services.
Documents