Within the framework of Tecnico Lisboa participation in the "Integrating the Sustainable Development Goals (SDG) into Higher Education" seminar, two collaborators of the Institutional Studies, Planning and Quality Area (AEPQ), represented the institution in the event. The Seminar was held at the premises of ISCTE-University Institute of Lisbon, on March 21, and focused the contribution of Higher Education Institutions (HEIs) to the achievement of SGD 4 – "Quality Education", and SDG 17 – "Partnerships for the Implementation of the Goals".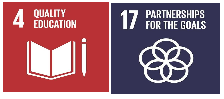 The Seminar promoted a space of debate on the importance of HEIs in the implementation of best practices of sustainability (process management and campus operations), in particular, of the following planet SDG's:

The responsibility of HEIs in a positive environmental impact and their role as agents of transformation and social mobilization in a global changing environment, was therefore recognized by a broad panel of national and international speakers.
For further information regarding the Sustainable Development Goals, please check the United Nations webpage.